♫ March 11th, 2018 3:55 pm
♫ March 1st, 2018 9:07 pm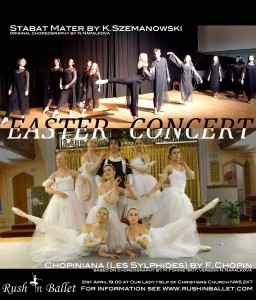 Title: EASTER CONCERT
Location: Our Lady, Help of Christians Catholic Church Kentish town
Start Time: 19:00
Date: 2018-04-21
Dear Friends
Rushin Ballet are delighted to present our Easter concert that will combine singing, music and dance and we would love for you to join us.
The choreography of the first part of the concert is inspired by HCS singing of the beautiful Stabat Mater by Szymanowski. We can then assure you of an entertaining and enriching evening.
The second part will be Les Sylphides by Chopin.
The concert is on Saturday 21st April, 7pm at the Our Lady, Help of Christians Catholic Church in Kentish town. We will be delighted to give you a warm welcome.
♫ April 1st, 2016 9:42 am