♫ Wednesday, May 30th, 2018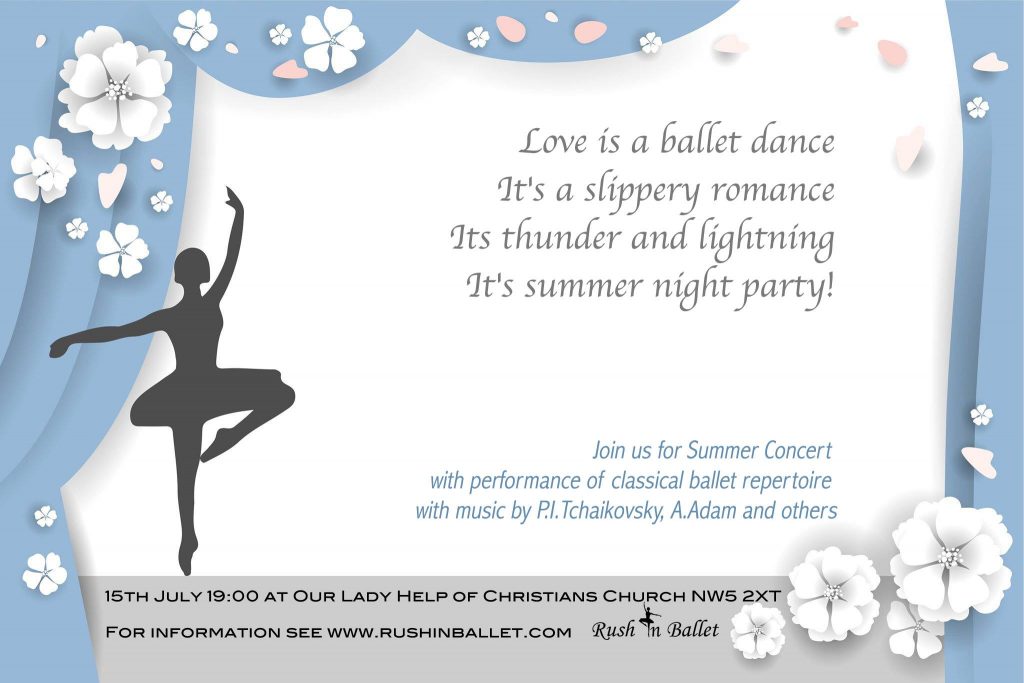 We are delighted to present our annual Summer Concert and hope you can join us for the evening of classical ballet performances and live music.
It is marvellous to find so much talent within our small group of performers and be able to bring it all to you. Tenor Mattias Carbonetti and alto Natalia Napalkova alto will be singing. Extraordinary violinist Bar Markovich will play his beautiful music.
Don't miss out!!     The variety will amaze and delight you.
And please do join us for good food and drink after the concert, make new friends and be amazed at the talent on your doorstep.
This year we have prepared wonderful mix of dances from Le Corsaire, Swan Lake and Nutcracker, Romeo and Juliet. Colours, dance and music merge together to create a feast for the senses!
We are grateful to all our friends for their support over the years and look forward to seeing you all again at the summer concert.
The concert is on Sunday 15th July, 7pm at the Our Lady, Help of Christians Catholic Church in Kentish town.
Over 60-s and kids free.
Tickets on the day £8, Concessions £3, Online £5.